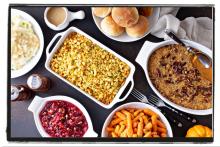 Thanksgiving is all about family, friends, food, and fun! But, when the food hits the table, the starring role often goes to the meat at the center.
Thankfully there are many plant-based, vegan-friendly "meat" options available. From mains to sides, we've got all the dishes to make your holidays deliciously festive and fabulous!
If buying a holiday roast is part of the plan, here are a couple of our favorites: Field Roast's Celebration Loaf, and Turtle Island Foods' Tofurky Holiday Roast.
Delicious cruelty-free dishes from whipped potatoes to stuffing to pumpkin pie are easy to veganize.
Follow the links below for all the recipes to create a delicious and cruelty-free Thanksgiving feast!
Finally, there are two holiday cookbooks to check out going into the holidays: Vegan Holiday Cooking

by Joy Pierson and Angel Ramos, and Vegan Holiday Kitchen
by Nava Atlas.
Happy Holidays!