Category
Sauces, Dips, Dressings & Spreads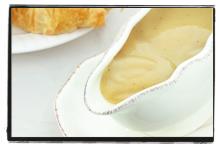 We've never met a whipped potato that didn't beg to be covered in a delicious blanket of rich, silky gravy. It's true! We had a chat with our whipped potatoes, and it was confirmed.
Here's what you need:
2 cups hot water
2 teaspoons Better Than Bouillon No Chicken Base

1/4 cup extra virgin olive oil
1/3 cup all-purpose flour
1 to 2 cups almond or soy milk
seasoned salt and freshly ground black pepper to taste
Stir together the hot water and Better Than Bouillon to create a broth. Set aside.
Heat the oil in a medium skillet over medium heat. Add the flour. Using a whisk, incorporate the flour into the oil to create a paste. Continue whisking until you have a nice golden brown roux.
Slowly pour in the broth mixture, whisking constantly. Add 1 cup of the milk and continue whisking until the gravy begins to thicken. You'll need between 1 and 2 cups of milk, depending on the desired thickness.
Season to taste with salt and pepper.