Category
Sauces, Dips, Dressings & Spreads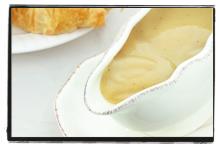 Whipped potatoes wouldn't be the same without a silky, savory, flavorful gravy. This is the gravy you want. Trust me. It's divine!
Here's what you need:
2 cups hot tap water
4 teaspoons Better Than Bouillon No Chicken Base

1/4 cup extra virgin olive oil
1/3 cup all-purpose flour
1 to 1 1/2 cups almond or non-dairy milk
1/2 teaspoon garlic powder
salt and freshly ground black pepper to taste
Stir together the hot water and Better Than Bouillon to create a broth and set it aside.
Heat a medium-sized skillet over medium heat. Add the oil. Using a whisk, add the flour and mix to create a paste. Continue whisking until the flour turns golden.
Slowly pour in the broth mixture, whisking continuously. Add the milk, a half cup at a time, and continue whisking until the gravy thickens. Depending on the desired thickness, you'll need between 1 to 1 1/2 cups of milk.
Season to taste with salt and pepper.