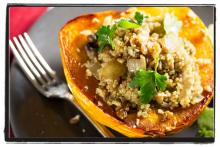 This recipe has a couple of steps, but luckily each step is easy, and the outcome is unbelievably delicious.
Here's what you'll need:
3 cups prepared quinoa
2 winter squash, halved
olive oil
salt and pepper
1 cup of mushrooms, white or baby Bella, minced
1/2 yellow onion, small dice
2 large cloves of garlic, minced or crushed
1/2 cup of chopped walnuts (optional)
parsley for garnish (optional)
Preheat the oven to 400° F
Cut the squash in half from the top stem to the bottom. Remove the seeds, then drizzle each half with olive oil and season with salt and pepper. Place each half, cut side up, onto a lined baking sheet, and bake for 45 minutes to 1 hour, until the flesh is fork-tender.
Meanwhile, prepare the quinoa.
In a medium-sized pot, combine one cup of quinoa - any color will do, along with 2 cups vegetable broth. Bring the quinoa up to a boil, cover, and reduce the heat to low. Simmer for about 15 minutes. Remove the pot from the heat and strain the quinoa in a fine-mesh strainer if needed to remove any excess liquid. Return the quinoa to the pot and fluff with a fork. Set aside.
Next, heat the olive oil in a large skillet over medium heat, then add your mushrooms. Cook the mushrooms until they start to turn golden brown, then add the onion. Continue to cook until the onion becomes translucent, about another 5 minutes or so. Next, stir in the garlic and cook for another minute. Finally, remove the skillet from the heat and stir in the quinoa—adding the walnuts if using—season to taste with salt and pepper.
Next, divide the quinoa stuffing evenly between the four halves of the squash. (Depending on the size of your squash, you might have extra stuffing, and that's ok. Just place it in a serving dish and serve it on the side.)
Cover the squash loosely with foil and return it to the oven for about 10 to 15 minutes, just until thoroughly heated.
Note: If you are not a fan of mushrooms, you could swap them out for chic peas and it would be just as delicious.