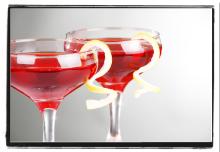 Peppermint Martinis around the holidays may not be a requirement, but they should be. Cheers!
Four parts vanilla vodka*
One part Peppermint Schnapps*
A Splash of grenadine
Chilled martini glasses
Lemon or lime curls
If you want to get real fancy, rim the martini glasses with a crushed candy cane. Just use a Mortar and Pestle, or sealable baggie and small kitchen mallet - and grind 1 to 2 candy canes into a semi-fine powder. Pour the crushed candy cane onto a plate. Next, wet the rim of the martini glass with a lemon or lime wedge, then dip the entire rim into the crushed candy and set the martini glass aside.
Fill a cocktail shaker with ice. Add vodka, peppermint schnapps, and grenadine. Shake vigorously for a full minute, then strain the mixture into a chilled martini glass.
Garnish with lemon or lime curl or a mini candy cane.
*Adults only - Must be 21 or older! Please drink responsibly!
Cheers!