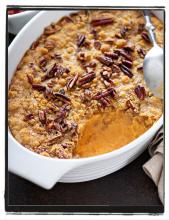 This sweet potato casserole is the perfect balance of sweet and savory. The subtle hints of cinnamon combined with the brown sugar and vanilla make it irresistible.
3 pounds of sweet potatoes (6 to 8 medium to large) OR 3 large 29oz. cans
1/3 cup brown sugar
1/3 cup vegan butter
1/2 teaspoon vanilla
1/4 teaspoon cinnamon
1/4 teaspoon salt and pepper
For the crumble
1/2 cup AP flour
1/2 cup brown sugar
4 to 6 tablespoons of slightly melted vegan butter
1/4 teaspoon cinnamon
3/4 cup roughly chopped pecans (or walnuts)
Preheat the oven to 400° F. and grease a 9x13-inch pan or casserole dish.
If you're using whole sweet potatoes, (recommended) rub each potato with a small amount of olive oil and wrap each one in foil. Place the sweet potatoes on a baking sheet and bake for 45 to 50 minutes or until fork tender. If you're using canned sweet potatoes, drain off all the liquid before you begin.
Remove them from the oven and allow them cool until they are safe to handle, then remove the foil and peel off the skin, adding the potato to a large mixing bowl.
Add the brown sugar, butter, vanilla, cinnamon, salt, pepper, and mash until smooth. Spread the mixture into the prepared baking pan.
Make the crumble by mixing the flour, brown sugar, and cinnamon with a fork, then drizzle in the butter until you get a crumble-like consistency.
Sprinkle the crumble evenly over the potato mixture, then sprinkle with the chopped pecans.
Bake at 375° F for 20 to 25 minutes, until heated through.