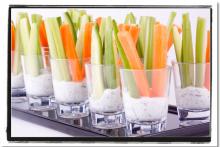 Fresh, crisp veggies and a delicious creamy vegetable dip, served up individually where double-dipping is allowed and encouraged! Perfect for a large group or even a small gathering of friends and family.
The Dip:

1 cup vegan mayonnaise
1 cup dairy-free sour cream
1 tablespoon dried parsley
1 tablespoon chives
1 teaspoon dill weed
1 teaspoon onion powder
1 teaspoon garlic powder
pinch of sea salt
freshly ground pepper
Add all ingredients to a medium-sized bowl, stir to combine, and chill.
The Veggies:
Use any vegetables you like, such as carrot, celery, cucumber, and bell pepper. Add a single spear of dill pickle or a spicy pickled spear of asparagus to finish off each serving; just cut the vegetables into thin spears, making sure they're tall enough to clear the rim of your serving cup by an inch or two so they're easy to grasp. We recommend 5 or 6 spears per serving.
To Assemble:
Gather your serving cups onto a tray, and using a piping bag add 2 to 3 tablespoons of dip into the bottoms of each one. If you don't have a piping set, you can spoon the dip into the bottom of each serving cup. Finally, place a few of the vegetables upright in each cup.
Refrigerate until ready to serve.