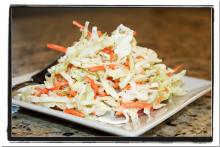 This classic coleslaw recipe is one that everyone will love. It's creamy, delicious, and super easy to make.
16 ounces of your favorite packaged coleslaw mix (or shred 4 cups green cabbage & 2 large carrots)
1 cup of Vegenaise by Follow Your Heart
1/4 cup white wine vinegar
1 teaspoon celery seed
1/4 cup sugar
1/4 teaspoon each salt and pepper
Place the coleslaw mix in a large bowl and set aside.
Combine the Vegenaise, vinegar, celery seed, sugar, and salt and pepper in a medium-size bowl.
Whisk the ingredients until everything is well combined.
Pour the dressing over the cabbage mix and toss the cabbage to coat.
Refrigerate any leftovers and enjoy within 3 to 5 days.
Contains
Cabbage
Seeds
Vegenaise (vegan mayonnaise)
Vinegar