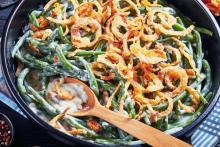 Green Bean Casserole is a staple around the holidays. And because we love them so very much, creating a vegan version that holds up to its counterpart, was a challenge we were willing to take on.
1 pound fresh green beans rinsed, trimmed, and halved.
sea salt and black pepper
1/4 cup of vegan butter, or half a stick
1 medium shallot, minced
1 large clove garlic, minced
1 cup white button or baby bella mushrooms, finely chopped
3 tablespoons all-purpose flour
1 cup prepared Better Than Bouillon, No Chicken Base

1 cup unsweetened non-dairy milk
1 1/2 to 2 cups Crispy Fried Onions
Preheat oven to 400°.
The Beans
Bring a large pot of water to a boil and add in a teaspoon of salt. Drop the green beans in and bring the water back up to a boil. Cook, uncovered, for 5 to 7 minutes. Drain and set aside.
The Mushroom Sauce:
Using a large oven-safe skillet over medium heat, add vegan butter, shallots, and garlic. Season with a pinch of salt and freshly ground black pepper and continue to cook for 2 to 3 minutes. Add the mushrooms and cook for 5 minutes more, stirring often.
Sprinkle in the flour and stir until the flour is mixed in, and the vegetables are coated. Continue to cook for 1 minute, then slowly add in the broth, whisking slowly to incorporate.
Add in the non-dairy milk and continue to whisk until everything is well combined. Season to taste with more salt and pepper and bring the mixture to a simmer, then reduce heat to low, stirring often, until the sauce thickens; about 5-7 minutes more. Adjust seasonings to taste.
Remove from the heat and add about half of the fried onions along with the cooked green beans. Toss to combine well, then top with remaining fried onions.
Cover with foil and bake for 15 minutes. Remove the foil and cook for 10 minutes more or until the mixture is bubbly, and the onions have browned slightly. Serve immediately.
Store leftovers in the fridge and enjoy within 3 days.
Contains
Beans (green)
Butter (vegan)
Garlic
Milk (non-dairy)
Mushrooms
Shallot
Wheat Flour