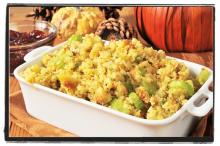 Whether you call it dressing or stuffing, we call it delicious! This classic dressing recipe is just as delicious as its counterpart, only better because we made it without a single animal product in sight. Hooray!
4 cups hot water
2 tablespoons Better Than Bouillon No Chicken Base
1/2 cup long-grain brown rice
4 cups your choice of bread, cubed (use gluten-free bread for a GF dressing)
1 tablespoon extra virgin olive oil
1 cup onion, chopped
1 cup celery, chopped
1/2 teaspoon kosher salt
1/4 teaspoon freshly cracked black pepper
2 tablespoons dried parsley
1 teaspoon turmeric
1 teaspoon sage
1/2 teaspoon allspice
Dissolve the Bouillon in 4 cups of hot water.
Add two cups of the now-prepared Bouillon to a medium saucepan and bring to a boil. Stir in the rice, reduce heat, cover, and simmer for 55 to 60 minutes, or until the rice is tender.
Meanwhile, cut bread into cubes and spread it in a single layer on a lightly oiled baking sheet—Bake at 400° for 5 minutes. Turn the bread cubes with a spatula and continue to bake for another 5 minutes, or until the bread is crispy and dry (be careful not to burn it). Remove from the oven and set aside.
Heat the oil in a large skillet over medium heat. Add the onion and celery and sauté until tender. Remove the vegetables from the heat and stir in salt, pepper, parsley, turmeric, sage, and allspice. Add the bread and rice and fold in the remaining broth; 1/2 cup at a time. If you prefer a dryer dressing, reduce the total liquid by about half a cup.
Spoon the mixture into a lightly oiled Baking Dish, cover tightly with foil, and place in a 350° oven for 20 minutes. Remove the foil and continue to bake for an additional 10 minutes, or until the top is nice and golden.