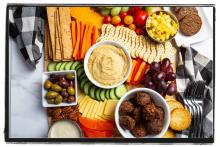 Building a Charcuterie Board isn't as complicated as one might think, and it can be a whole lot of fun. Just follow a few basics, and you'll have a deliciously beautiful charcuterie board in no time at all.
Plan to use 2 to 3 different kinds of cheese and plant-based meats each, whether deli-style or meatballs and sausage as we've chosen here. Use whatever appeals to you. Just estimate roughly 2 to 3 ounces of meat and about 1 ounce of cheese per person.
The rest is truly up to you! Here are some of our suggestions. Use some or all of them to create your perfect charcuterie board.
Use a variety of crackers and sliced bruschetta bread.
Hummus
Olives
Grapes (2 color varieties)
Apple slices (2 color varieties)
Pineapple tidbits
Dried fruit of any kind
Carrot sticks
Celery sticks
Cucumber rounds
Pickled asparagus
Pickle Spears or whole baby gherkins
Nuts
Cherry Tomatoes
Tangerine pieces
Jelly or jam
Sauces, spicy or ground mustard, ranch-style dip
Fresh sage, basil, or parsley set about the board for garnish and added color
And suddenly, you have yourself the most fantastic charcuterie board ever!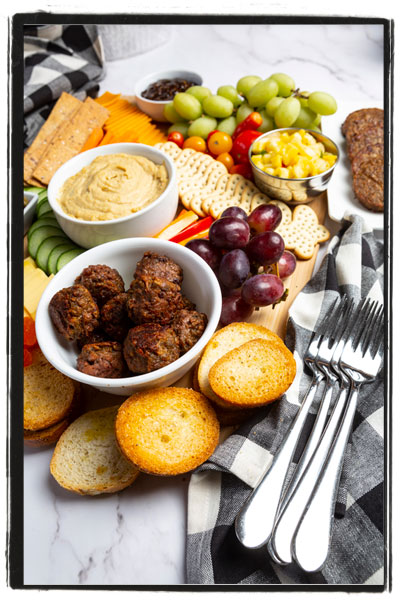 Assorted crackers