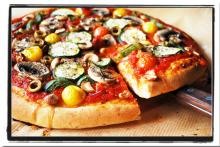 Being vegan isn't just about eating lettuce and carrots! It's about so much more, and it includes amazingly delicious recipes that you can create using fresh, healthy ingredients! This Veggie Supreme Pizza is one of the many delicious foods you will enjoy as a vegan. So what are you waiting for? Go for it!
Pizza Dough:
Buy your pizza dough in a can (most are vegan), or purchase a ball of pizza dough from your local pizzeria, or Make Your Own!
Cheese Sauce:
¼ cup raw cashews
2 cups hot water, divided
2 1/2 Tablespoons tapioca starch (tapioca flour)
2 Tablespoons of nutritional yeast
1 teaspoon Apple Cider Vinegar
½ teaspoon salt
¼ teaspoon garlic powder
INSTRUCTIONS:
Add the cashews and 1 cup of hot water to a small saucepan. Bring them to a boil and cook for 10 to 12 minutes, or until the cashews are soft. Drain the cashews and set them aside.
Add the remaining cup of hot water, cashews, tapioca starch, nutritional yeast, vinegar, salt, and garlic powder to a high-powered blender. Blend until smooth, 3 to 5 minutes. The sauce will be watery - not to worry; it's supposed to be like this.
Pour the sauce into a medium saucepan over medium-high heat. As you stir, the sauce may begin to form clumps; continue stirring for about 5 minutes, and you will have a beautiful, thick cheesy sauce worthy of a delicious veggie supreme pizza.
Pizza Sauce:
1 to 2 tablespoons olive oil
2 large cloves garlic, crushed
1 medium white onion, finely chopped
2 15-ounce cans of crushed tomatoes
1 15-ounce can tomato sauce
1/4 cup tomato paste, preferably from a tube
1 teaspoon sugar
1 teaspoon dried oregano
1 teaspoon dried basil
pinch of red pepper flake
salt and pepper to taste
INSTRUCTIONS:
Add a tablespoon or so of olive oil to a large pot over medium-high heat. Stir in the garlic and chopped onion, and cook until the onions are soft, approximately 4 to 5 minutes.
Add the crushed tomatoes, tomato sauce, and tomato paste and stir to combine. Stir in the sugar, oregano, and basil, and bring to a boil, stirring constantly. Reduce heat to low and simmer gently for 30 to 40 minutes or until the sauce has reduced by about half. Add red pepper flake and salt and pepper to taste.
Toppings:
1 dozen cherry tomatoes
1 large green bell pepper, sliced thin
1 medium zucchini sliced to 1/2-inch thickness
1/2 cup mushrooms, sliced thin
1/2 medium red onion, sliced thin
1/4 cup green olives, sliced
Prepare the cheese sauce, and keep it warm on the stove. Next, make the pizza sauce and set it aside.
Preheat the oven to 500°
Assemble the Pizza:
Roll the dough onto a pizza stone or prepared baking sheet. Top evenly with 1/2 cup of cheese sauce. Next, add 1 cup of pizza sauce, and spread it out evenly over the pizza. Then add your veggies.
Bake for 5 minutes, and then rotate the pizza 180 degrees. Bake for an additional 3 to 5 minutes or until the crust is nice and golden.
Allow the pizza to cool for about 3 to 5 minutes, then slice and serve.