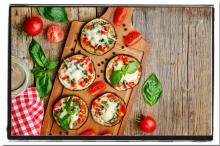 Eggplant Pizza Bites is a delicious, easy-to-make recipe that has become one of my favorites. I hope you like it too!
Here's what you need:
One small eggplant
1 cup marinara
2 Roma tomatoes, small dice
2 large garlic cloves, minced
1/2 cup freshly-cut basil
1 cup shredded vegan mozzarella
vegan parmesan for sprinkling (optional)
Preheat the oven to 400° F.
Lightly grease a baking sheet with vegetable oil. Cut the eggplant into 1/2-inch thick rounds and place them on the baking sheet in a single layer. Add a tablespoon or so of marinara to each piece of eggplant. Next, stir together the freshly sliced tomato, garlic, and a pinch of salt (optional). Top with basil, and then add the cheese.
Pop them into the oven for 10 to 12 minutes or until the cheese has melted.
Remove from the oven; garnish with more fresh basil and vegan parmesan if desired, and enjoy!
Refrigerate any leftovers.