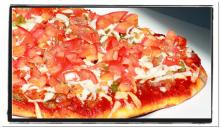 Savory, cheesy, yummy goodness all piled up on a flavorful flatbread. If you love pizza - and who doesn't- then you will love this one!
You can use a commercial flatbread, but if you prefer to make your own, you can do that as well. Follow the link below for No-Rise Oven Baked Flatbread!
Two pieces of flatbread (approximately 5-inch x 7-inch in size)
1 tablespoon olive oil
1 cup onion, finely chopped
1/2 cup red bell pepper, finely chopped
1/2 cup green bell pepper, finely chopped
1/2 tsp salt and freshly ground pepper
1/2 cup pizza sauce
1 cup vegan cheese, mozzarella
1 cup Roma tomatoes, seeded and finely chopped
1 teaspoon dried basil
pinch salt and freshly ground pepper
Preheat oven to 350°
Heat a large skillet over medium-high heat, then add the oil. When the oil is hot, add the onion, peppers, and half of the salt and pepper to the skillet. Sauté, occasionally stirring just until onion is translucent, and peppers are fork-tender. Remove skillet from heat and set aside.
Place the flatbread on a sheet pan. Spread 1/4 cup of pizza sauce evenly over each piece of flatbread.
Divide the onions and peppers in half and spread an even layer over each pizza.
Next, divide the cheese and follow with an even layer over each one.
Finally, mix tomatoes, basil, salt, and pepper in a small bowl. Stir to combine and add as a final layer to your flatbread.
Bake at 400° for 10 minutes, or until the cheese has melted and the flatbread is brown and crispy on the bottom. Cut each flatbread into as many pieces as you like, and enjoy.
Have fun making your pizza! Get everyone involved and experiment with other toppings such as mushrooms, black olives, zucchini, broccoli, vegan meats, pineapple, and more!