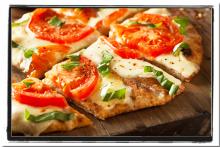 This margarita flatbread pizza is one of our favorite recipes. One, because it is just delicious, and two, it is super easy to make!
You can use a commercial flatbread which makes the whole process go a lot faster, but if you prefer to make your own, you can do that. Just follow the link below for No-Rise Oven Baked Flatbread!
Preheat the oven to 400°
Two pieces of flatbread (approximately 5-inch x 7-inch in size)
2 tablespoons olive oil
1/2 cup pizza sauce
1 8-ounce package of vegan mozzarella or Miyoko's Liquid Pizza Mozzarella
2 medium tomatoes, sliced thin
1/4 cup fresh basil chiffonade
freshly cracked pepper
vegan parmesan
red pepper flake
Place the flatbread on a sheet pan. Brush the top of each piece with olive oil. Divide the pizza sauce in half and spread a thin layer over each flatbread. Add 4 ounces of mozzarella to each. Then add your tomatoes, about 5 or 6 slices per pizza. Bake for 10 minutes, or until the cheese has melted and the flatbread is brown and crispy on the bottom.
Top with fresh basil chiffonade and freshly cracked black pepper then cut into slices.
Serve with vegan parmesan and red pepper flake on the side.