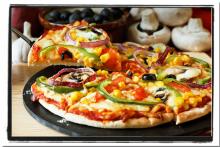 Homemade pizza never tasted so good! Making pizza dough from scratch is delicious, and it can be a lot of fun!
However, if you're not into making your own, stop by your favorite pizzeria or the frozen foods aisle at your local grocer and purchase one that's premade. If you buy the sauce, double-check the ingredient list to make sure the sauce is vegan.
To make your own, follow the links below:
Once the dough and sauce are ready to go - it's time to create your delicious south-of-the-border pizza!
The following toppings are per pizza; use more or less to your taste.
1/2 cup sauce
1/2 cup vegan mozzarella, shredded or Miyoko's Liquid Vegan Pizza Mozzarella
1/4 red onion, thinly sliced
1/4 green bell pepper, thinly sliced
1/4 cup mushrooms, sliced
1/4 cup black olives, sliced
1/2 cup corn, fresh or frozen
1 Roma tomato diced
Preheat oven to 475° If you're using a pizza stone, place the stone in the oven to preheat as well.
Once you have the dough spread out onto the pizza pan or peel, brush it with the olive oil, then ladle the sauce in the center.
Using the back of the spoon, in a circular motion, begin spreading the sauce evenly over the dough, stopping short (about 1") from the edge.
Layer the toppings in the order listed above.
Bake your pizza for 7 to 10 minutes if you are using a preheated pizza stone, or 12 to 15 minutes using a pizza pan (times are approximate depending on individual ovens).
Let the pizza stand at room temperature for 2 to 3 minutes before slicing.