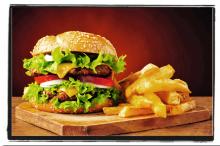 Nothing says delicious like the makings of a great burger! And nothing says it more humanely than a 100% plant-based burger!
We're sharing our favorite meat-free brands and a few of our favorite ways to assemble and enjoy them!
Our Top 5 Favorite Burger Brands:
What you'll need:
One vegan burger of choice
One hamburger bun, lightly toasted
Condiments of choice
'Shroom Burger
Add your favorite vegan white cheese, a few sauteed mushrooms, and a sprinkling of vegan parmesan for the perfect 'Shroom Burger.
Bacon Cheeseburger
Add a slice of vegan cheddar and a few strips of Smart Bacon by Lightlife, to create a delicious 'bacon' cheeseburger!
Chili Cheese Burger
Top your burger with our delicious Three Bean Chili, a slice of vegan cheddar, and some freshly chopped onions for a delicious Chili Cheese Burger.
The California Burger
Layer on some lettuce, onion, tomato, avocado, and pickles for the ever-so-popular California Burger.
There's also the Pizza Burger, Hawaiian Burger, BBQ Burger... and even the Taco Burger! The possibilities are endless!
Get creative with all the condiments, veggies, and flavors you love, and you'll be in for one delicious burger!