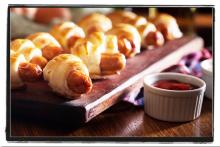 Vegan pigs in a blanket make the perfect appetizer, snack, or meal, and they couldn't be any easier to make!
1 package Original Pillsbury Crescent Rolls
1 Package of 8 Smart Dogs by Lightlife, or other vegan hot dog of choice.
Preheat oven to 375° F.
Open the crescent rolls, and separate the perforated dough into triangles.
Open the hot dogs and wrap each hot dog in their 'blanket,' beginning with the large end of the triangle.
Set the pigs in a blanket on a baking sheet
and bake for 12 to 16 minutes, or until golden brown.
This recipe makes eight pigs in a blanket.
If it's a snack or appetizer you're looking for, cut each Smart Dog in half - or thirds. Then, using a pizza cutter, cut the triangle-shaped crescent rolls in half or in thirds lengthwise to get the desired number of wraps. Then follow the prep and cooking instructions above.
Serve with ketchup, mustard, and barbecue sauce for dipping.