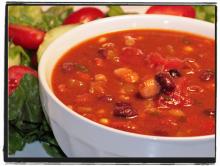 This delicious smoky three bean chili is out-of-this-world delicious. It is a hearty bowl with layers of flavor, boosted with ingredients like soy sauce, molasses, and even chocolate. Yes! Chocolate! It is so good; you won't believe your taste buds!
1 tablespoon olive oil
3/4 cup onion, chopped
1 medium red bell pepper, seeded and diced
2 celery stalks, diced
3 garlic cloves, crushed
3 cups prepared vegetable stock
3 15-ounce cans beans, 1 each; black, pinto, and great northern
1 14-ounce can of diced tomatoes
3 tablespoons tomato paste
1/1/2 cups organic sweet corn (fresh or frozen)
2 teaspoons cumin
1 teaspoon coriander
1 1/2 teaspoon paprika
1 teaspoon chili powder
1/2 teaspoon chili flake
1/2 teaspoon liquid smoke
1 tablespoon soy sauce
1 tablespoon molasses
2 tablespoons vegan chocolate chips
1/2 teaspoon kosher salt
1/4 teaspoon black pepper
juice of one lime
1/4 cup cilantro leaves, finely chopped
Heat a large soup pot over medium heat, then add one tablespoon of oil.
Add the onion, bell pepper, and celery. Sauté over medium heat until tender; about 4 to 5 minutes. Add the garlic and cook for another minute.
Stir in the broth, beans, diced tomatoes, tomato paste, and corn.
Add the cumin, coriander, paprika, chili powder, chili flake, liquid smoke, soy sauce, molasses, vegan chocolate chips, salt, and pepper, and stir well to combine.
Continue to cook over medium heat, often stirring until the mixture starts to bubble.
Reduce the heat to medium-low. Stir in the lime juice and chopped cilantro. Serve immediately.
Store any leftovers in the fridge for 3 to 5 days.
*For a gluten-free version, read the labels to ensure all canned and pre-packaged ingredients are gluten-free.