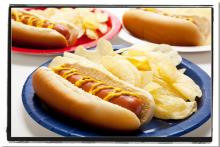 Hot dogs are a staple in most American diets, and just because you're vegan doesn't mean you have to give them up! Lightlife has created a delicious vegan hot dog they call Smart Dogs. They are smoky and so delicious, you no longer have to crave a hot dog, you can actually have one! Smart Dogs are a delicious and smart alternative for everyone.
1 Package of 8 Smart Dogs by Lightlife
8 Hot Dog Buns
vegan condiments of choice
You can fry, grill, boil, and even microwave Smart Dogs. The directions are on the back of the package for each method. We've tried them all and prefer pan-frying or grilling Smart Dogs as we think it brings out that delicious smoky flavor and texture we all love.
Smart Dogs take less than 10 minutes to cook regardless of the method you choose. They have just 50 calories per serving, 0 grams of saturated fat, 0 grams of trans fat, 7 grams of protein, are made with non-GMO soy, have no added nitrates - and no nasty MSG.
Get yourself a package of Smart Dogs! It's the smart thing to do! :)