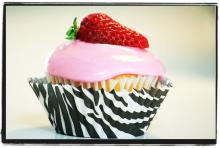 A great strawberry cupcake requires a great cake recipe. And we just happen to have the best vanilla cake recipe EVER!
3 cups all-purpose flour
2 cups sugar
2 teaspoons baking soda
1 teaspoon baking powder
1 teaspoon salt
1 3/4-cups almond, rice, or soy milk
1 cup canola oil
1/4 cup apple cider vinegar
1 teaspoon pure vanilla extract
Preheat the oven to 350°
Whisk the flour, sugar, baking soda, baking powder, and salt in a large bowl.
I a separate bowl, whisk together the non-dairy milk, oil, vinegar, and vanilla.
Pour the wet mixture into the dry mixture and whisk until just combined. Be careful not to over-mix.
Line two 12-cup cupcake pans with cupcake liners. Fill the cupcake liners 2/3 of the way full with batter. Bake for 18 - 20 minutes, or until a toothpick inserted in the center of a cupcake comes out clean.
Cool completely before frosting.
These cupcakes are delicious covered in our Cream Cheese Icing! Just follow the directions to achieve the color you desire!
Assemble the Cupcakes
Frost each cupcake with two tablespoons of the cream cheese "strawberry" icing. Top with a sliced strawberry.
Keep the cupcakes refrigerated until you're ready to serve them.