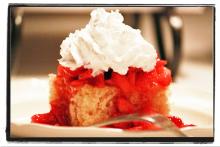 One of the best things about the strawberry shortcake is the cake! Serving the topping over a cake that absorbs the sauce and stands up to the delicious fresh strawberries and whipped cream is essential. This cake does all of that - and it is delicious!
The Cake:
3 cups all-purpose flour
2 cups sugar
2 teaspoons baking soda
1 teaspoon baking powder
1 teaspoon salt
1 3/4-cups almond, rice, or soy milk
1 cup canola oil
1/4 cup apple cider vinegar
1 teaspoon pure vanilla extract
Preheat the oven to 350°. Lightly grease one 9 x 13-inch pan and line the bottom with parchment paper.
Whisk together flour, sugar, baking soda, baking powder, and salt in a large bowl.
In a separate bowl, whisk together non-dairy milk, oil, vinegar, and vanilla.
Pour the wet mixture into the dry mixture and whisk until just combined. Be careful not to over mix.
Fill the prepared cake pan evenly with the batter. Bake for 26 to 28 minutes, until an inserted toothpick, comes out clean.
Carefully rotate the cake halfway through the baking time if possible—cool the cake completely before assembling.
The Strawberry Sauce
2 quarts of fresh strawberries, stemmed and quartered
1/4 cup sugar
1/4 cup filtered water
Mix the above ingredients, and chill for at least 30 minutes before serving.
To assemble, cut a 4 x 4" square of vanilla cake and spoon 1/2 cup of strawberry sauce over the top. Add the whipped cream topping (recipe below) and enjoy!