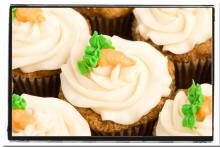 Carrot cake cupcakes are the perfect treat for any occasion! But don't wait for an occasion, they're delicious anytime!
1 1/2 cup whole-wheat pastry flour
1 cup raw sugar
1 1/2 teaspoon baking powder
1 1/2 teaspoon baking soda
1 teaspoon cinnamon
3/4 tsp salt
1 1/2 cup unsweetened applesauce
1 Tbsp real vanilla extract
1/2 cup shredded carrot
1/2 cup chopped walnuts (optional)
These are delicious covered in our Cream Cheese Icing!
Preheat oven to 350°
Spray a muffin pan or use paper or foil liners.
Whisk flour, sugar, baking powder, baking soda, cinnamon, and salt together in a medium bowl.
In a large bowl, combine the applesauce, vanilla, and carrot. Add the dry ingredients to the wet mixture one cup at a time, stirring until just combined. Fold in 1/2 cup chopped nuts if using.
Fill the muffin cups 3/4 full and bake for 18 - 25 minutes, or until a toothpick inserted into the center comes out clean.
Remove cupcakes from the oven and transfer them to a wire cooling rack. Cool completely before icing. Decorate with a signature "carrot" - or sprinkle additional chopped walnuts on top!