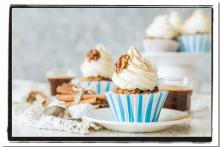 For the Cupcakes
1 cup non-dairy milk
1 tablespoon apple cider vinegar
3/4 cup sugar
1/3 cup canola
2 teaspoon agave nectar
1 1/2 tablespoon vanilla
1 1/3 cups all-purpose flour
2 teaspoon cinnamon
1/2 teaspoon baking powder
3/4 teaspoon baking soda
1/4 teaspoon salt
Preheat oven to 350°
Mix the milk and cider vinegar in a large bowl and set aside to curdle for a few minutes. Then add the oil, sugar, agave nectar, and vanilla, mix until well combined.
Add the dry ingredients next and mix until smooth.
Using an ice cream scoop, measure the batter into a cupcake tray filled with liners about 3/4 the way full.
Then bake for 15-17 minutes. Cool completely before frosting.
The recipe makes 10-12 cupcakes.
For the Cinnamon Frosting
1/2 cup vegan butter
1/2 cup vegetable shortening
3 cups powdered sugar
2 tablespoon non-dairy milk
1/2 teaspoon pure vanilla extract
1 teaspoon cinnamon
Mix the softened vegan butter and powdered sugar in a medium-sized bowl. Next, add the cinnamon and non-dairy milk, continue to mix until smooth, creamy, and fluffy, about 2 minutes.