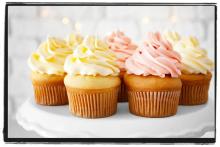 Vanilla cupcakes are so versatile and easy to make. Valentine's Day, Mother's Day, 4th of July, or just because! Frost and decorate them however you like, and you'll have a dessert everyone will love!
3 cups all-purpose flour
2 cups sugar
2 tsp baking soda
1 tsp baking powder
1 tsp salt
1 3/4 cups almond, rice, or soy milk
1/2 cup canola oil
1/4 cup apple cider vinegar
1 tsp pure vanilla extract
Preheat the oven to 350°
Whisk together flour, sugar, baking soda, baking powder, and salt in a large bowl.
Whisk together non-dairy milk, oil, vinegar, and vanilla in a separate bowl.
Pour the wet mixture into the dry mixture and whisk until just combined. Be careful not to over-mix.
Line two 12-cup cupcake pans with cupcake liners. Fill the cupcake liners 2/3 of the way full with batter.
Bake for 18 - 20 minutes, or until a toothpick inserted in the center of a cupcake comes out clean. Cool completely before frosting.
Get our recipe for Cream Cheese Icing.