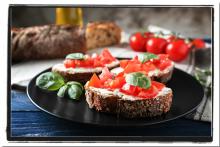 Roasted garlic and tomato basil bruschetta is such an easy and flavorful recipe, and it's always a crowd-pleaser! When paired with the freshness of the tomatoes, the garlic cream cheese mixture makes this one an irresistible appetizer!
4 to 6 Roma or vine-ripened tomatoes, small dice
1 whole head Roasted Garlic
4 ounces vegan cream cheese, softened
12 - 15 slices baguette, 1/2-inch-thick
2 tablespoons olive oil
salt and pepper to taste
(Optional) Balsamic Vinegar Reduction:
1/2 cup of good balsamic vinegar
1/4 cup brown sugar
Add the vinegar and sugar to a small saucepan over medium heat. Bring to a boil, reduce the heat and simmer until the mixture reduces by about half. Remove the pan from the heat and allow the reduction to cool.
Arrange bread slices on a baking sheet. Drizzle with olive oil and place under a broiler to brown lightly. Remove from the oven and cool.
Meanwhile, combine the tomato and salt and pepper to taste in a medium bowl; set aside.
Squeeze the roasted garlic out of skins and mix well with the cream cheese. Add a dash of salt and pepper to the cream cheese mixture to taste.
Spread 1 - 2 tablespoons each of the roasted garlic cream cheese mixture, then top with the tomato basil mixture.
Add a drizzle of the balsamic vinegar reduction over the top if using, and garnish with fresh basil.
This recipe can easily be doubled, tripled, or even quadrupled, depending on the size of your party. You know what they say "The more, the merrier!"