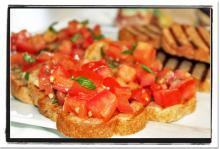 This recipe is super easy to make and really delicious. It comes together quickly, and it's always a crowd-pleaser.
2 cups chopped and seeded Roma Tomatoes
4 to 5 large fresh basil leaves, snipped
1 tablespoon olive oil
1 tablespoon good balsamic vinegar
2 tablespoon garlic, minced or crushed
1/2 teaspoon kosher salt
1/2 teaspoon pepper
1/3 cup vegan butter
One loaf baguette-style French bread, sliced
tomato-basil topping
Combine tomatoes, basil, olive oil, vinegar, 2/3 of the garlic, and salt and pepper in a medium bowl. Set aside and let all the flavors come together.
buttery garlic spread
Meanwhile, in a small bowl, combine the vegan butter and remaining garlic. Spread the mixture evenly on one side of each slice of bread.
On an outdoor grill or indoor grill pan, grill the bread slices buttered side down over medium-low heat for about 2 to 3 minutes or until lightly browned. Turn and spoon about a tablespoon or so of topping onto each bread slice. Grill for an additional 2 minutes, just until the bottoms of the bruschetta are toasted.
This recipe can easily be doubled, tripled, or even quadrupled, depending on the size of your party. You know what they say, "The more, the merrier!"