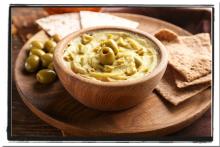 The green olives add a salty and tangy flavor you wouldn't expect from a hummus, making this appetizer nothing short of unexpectantly delicious!
Green Olive Hummus
1/3 cup olives of choice (we used pimento-stuffed green olives)
1 can (15 ounces) chickpeas, drained and rinsed
2 large cloves of garlic
2 Tablespoons freshly squeezed lemon juice
2 Tablespoons balsamic vinegar
1 Tablespoon Sesame oil
1 Tablespoon Sesame Seed
1/2 teaspoon ground cumin
1/4 teaspoon sea salt
1/8 teaspoon freshly ground black pepper
Place the olives in a good processor. Pulse several times until coarsely chopped. Remove 1/4 of the chopped olives and set aside. Add all of the remaining ingredients to the food processor and run for 2 to 3 minutes until completely smooth. Scrape down the sides of the container and continue processing for another 30 seconds.
Transfer the hummus to a serving bowl and garnish with the reserved olives. Serve immediately with crackers or pita bread.