Category
Sauces, Dips, Dressings & Spreads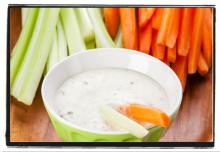 We've combined the classic flavors of ranch dressing and Old Bay seasoning to create the perfect blend for your fresh-cut veggies and favorite chips.
Try it with our Golden Crispy Tofu Fillet. It's delicious!
1/2 cup Vegenaise
1/2 cup Tofutti sour supreme
1 1/2 teaspoons Old Bay Seasoning
2 teaspoons freshly squeezed lemon juice
1 large garlic clove, crushed or finely minced
1 tablespoon finely chopped chives
Whisk together all of the above ingredients in a small bowl.
Refrigerate for about an hour before serving.
Enjoy within 7 to 10 days.