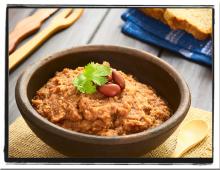 This Bean dip is fantastic and very versatile. Not only will it make a healthy and delicious appetizer, but you could also spread it on your favorite tortillas with all the trimmings for a delicious burrito or taco, and voila! - Dinner is served!
1 15-ounce can of red kidney beans, drained and rinsed
1 15-ounce can black beans, drained and rinsed
1 cup of salsa
2 teaspoons chili powder
Juice of 1 lime
Add the beans, salsa, chili powder, and lime juice to the bowl of a food processor.
Puree until smooth. If needed, add a slight amount of water to achieve a smooth consistency.
Place the pureed beans in a medium saucepan and warm over low heat until heated through, or serve chilled or at room temperature with your favorite tortilla chips.