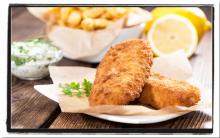 This golden crispy tofu fillet is delicious. The tofu is crispy on the outside and tender on the inside. We love this recipe so much we've nicknamed it "Tofish and Chips."
One package of extra firm organic tofu
1 cup unsweetened non-dairy creamer
1 tablespoon prepared Coleman's Mustard
1/2 teaspoon sea salt
3/4 cup all-purpose flour
2 tablespoons Old Bay Seasoning
1/2 teaspoon freshly ground black pepper
1 cup panko crumbs
Oil for frying, vegetable, or canola
Use a Tofu Press
to remove the water from the tofu. If you don't have a press, wrap the tofu in a clean kitchen towel between two plates. Add a heavy can to the top plate and let rest for about 15 to 20 minutes. You want as much of the water extracted from the tofu as possible before frying.
Meanwhile, add the soy creamer, mustard, and salt to a medium bowl. Whisk until well combined, and set aside.
Add the flour, Old Bay Seasoning, and pepper in a medium bowl. Whisk until well combined, and set aside.
Place 1 cup of panko breadcrumbs in another medium-size bowl. Set all three dishes in assembly-line fashion.
Cut the tofu into six pieces. Dip one into the cream mixture, then dredge it in the flour mixture. Set it on a baking sheet, and continue with the remaining portions.
Add about 1/4-inch of oil to a frying pan over medium heat.
When the oil is hot (but not smoking), re-dip a couple of fillets into the cream mixture, then coat with the panko crumbs. Place the fillets in the oil and fry for 2 to 3 minutes per side, until crispy and golden brown.
Drain the fillets on paper towels to soak up any excess oil.
If desired, serve with hot, crispy fries, a fresh lemon wedge, and tartar sauce.