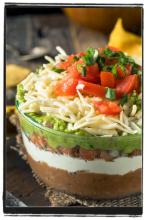 There's only one thing better than a six-layer dip, and that's a seven-layer dip! So go ahead, be brave, and toss a few diced jalapenos on top! You'll be glad you did!
Here's what you need:
1 16-ounce can of vegetarian refried beans
1/2 teaspoon onion powder
1/2 teaspoon garlic powder
1/2 teaspoon chili powder
1/2 teaspoon cumin
1/3 cup water
3 Roma tomatoes diced
1 small bunch of scallions, chopped, white and green parts
1 each red and yellow bell pepper, seeded and diced
juice of 1 lime
1 tablespoon of chopped fresh cilantro leaves
1 12-ounce container of vegan sour cream
1 20-ounce jar of Picante sauce, strained with a fine mesh strainer
1 cup guacamole
10 ounces vegan Monterey Jack cheese, shredded
1 8-ounce can of sliced black olives, drained (optional)
Sliced Jalapenos (optional)
Combine the beans, onion, garlic, chili powder, and cumin in a saucepan over medium heat. Stir in the water and cook until the beans are warmed. Remove from heat and cool slightly. Spread the bean mixture evenly into a clear glass serving bowl. Set the bowl aside to cool or refrigerate during the next step.
Prepare the veggie mixture by chopping and dicing the tomatoes, scallion, and bell pepper. Add them to a medium-sized bowl. Stir in the lime juice and cilantro. Set aside.
Assemble
Start by spreading the vegan sour cream over the bean mixture. Next, add the strained Picante sauce by spreading it evenly over the sour cream, then add the vegetable mixture, a layer of guacamole, and the shredded cheese. Finally, garnish with a few diced tomatoes, green onion, and freshly chopped cilantro.
If you prefer to make individual servings, divide and layer the bean dip evenly in 8 to 10 clear glass remekins. Then follow the directions above for assembling each one. Serve with your favorite tortilla chips for a delicious appetizer.