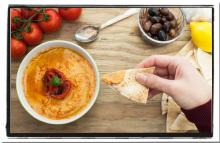 Hummus, under any name, is delicious. So don't let this one scare you off! You control the heat here. Add more or less cayenne pepper, aka "FIRE," to satisfy your palate. As for us, we're turning up the heat!
1 15-ounce can garbanzo beans, drained and rinsed
6 large cloves roasted garlic, (about 3 tablespoons)
2 tablespoons spicy restaurant-style salsa (plus 1/8 cup reserved for the middle)
2 tablespoons tahini
1 tablespoon extra virgin olive oil
1 teaspoon fresh lemon juice
1/2 teaspoon sea salt
1/2 teaspoon ground cumin
1/4 cup cold water
***
1/8 teaspoon cayenne pepper, or more to taste
1 fire-roasted tomato
1/2 teaspoon paprika
Combine the garbanzo beans, garlic, two tablespoons salsa, tahini, olive oil, lemon juice, salt, cumin, and water in a food processor. Puree until completely smooth, 3 to 5 minutes, occasionally stopping to scrape down the sides of the bowl. Adjust seasonings to taste.
Pour the hummus into a serving bowl. Hollow out the center to make a "hole."
Stir the cayenne pepper together with the fire-roasted tomato in a separate bowl, then stir in the reserved salsa. Pour the mixture into the "hole" and dust the top with paprika,
Serve with tortilla chips or pita bread.
Refrigerate any leftovers and enjoy within 5 to 7 days.