Category
Appetizer
Sauces, Dips, Dressings & Spreads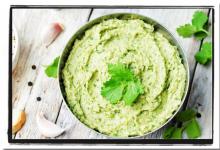 Want to see a magic trick? Serve this hummus with a giant bowl of tortilla chips and watch it disappear! It's that good!
2 tablespoon water
2 tablespoon olive oil
Juice of 2 limes, approximately 1/4 cup
1 15.5-ounce can garbanzo beans, drained and rinsed
3 tablespoon ground sesame seeds
1 small bunch of cilantro, chopped
5-6 cloves of garlic
1/4 cup white onion
1 teaspoon cumin
1/2 teaspoon kosher salt
1/4 teaspoon Cayenne pepper
Put everything into a food processor (or Blendtec) in the order listed above and blend until the mixture is smooth and creamy.
Chill before serving.