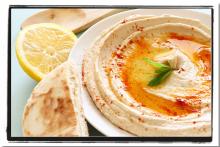 Middle Eastern dips like hummus once were viewed as exotic, but today they're familiar old friends. Of course, you can always buy hummus at your local grocer, but making your own is both easy to do and delicious!
1 15-ounce can garbanzo beans, drained and rinsed
6 cloves roasted garlic, or 3 tablespoons
1 large lemon (1 teaspoon zest + 3 tablespoons fresh lemon juice)
2 tablespoons tahini
1 tablespoon olive oil
1 tablespoon water
1/2 teaspoon kosher salt
1/2 teaspoon paprika
1/8 teaspoon cayenne pepper
Combine the garbanzo beans, roasted garlic, lemon zest, lemon juice, tahini, olive oil, water, salt, paprika, and cayenne in a food processor. Puree until smooth.
Transfer to a serving bowl, cover, chill for about an hour, then drizzle with a tablespoon or so of olive oil, squeeze fresh lemon juice over the top, and then sprinkle with paprika. Garnish with a fresh mint, basil, or parsley leaf and serve with pita wedges, cut veggies, or tortilla chips.