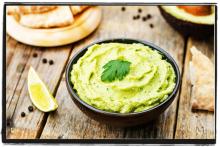 If you love avocados and hummus, you're going to love this recipe! It's the best of both worlds!
15-ounce can of garbanzo beans drained and rinsed
1/4 cup water
2 large avocados, seeded, peeled, and coarsely chopped
2 tablespoons tahini
1 tablespoon garlic, minced
1 jalapeno, minced, seeds removed (use more or less to taste)
1 tablespoon cumin
1/8 teaspoon cayenne
1/8 teaspoon oregano
1/3 cup cilantro leaves
juice of 1 lime
3 tablespoons avocado oil or extra virgin olive oil
salt and freshly ground black pepper to taste
Combine the beans, water, avocado, tahini, garlic, jalapeno, cumin, cayenne, oregano, cilantro, and lime in the bowl of a food processor. Pulse several times to chop coarsely.
Gradually add the oil until the mixture is creamy with the processor running.
Season with salt and pepper.
Dip tortilla chips; spread on pita bread or use it in a wrap. It's all good!