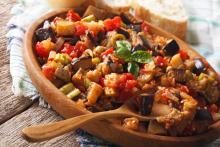 Eggplant Caponata is an enticing, flavorful dish that's perfect for the fall and winter months. It has all the flavors we love and the perfect amount of heat.
Here's what you need:
1 medium-size eggplant, peeled & diced
1 tablespoon extra virgin olive oil
1 yellow onion, finely chopped
2 celery stalks, finely diced
1 medium red bell pepper, seeded and finely chopped
1 Jalapeño, minced
1 6-ounce can tomato paste
1 tablespoon Agave nectar
1/8 cup capers, rinsed and drained
1/4 cup red wine vinegar
2 3/4 cups water
pinch of sea salt
pinch of red pepper flakes
Using a pot with a steamer basket, steam the eggplant until it is soft; about 10 minutes. Meanwhile, heat the olive oil in a large pot over medium heat. Add the onion, celery, red bell pepper, and jalapeño. Sauté for 10 to 12 minutes, occasionally stirring until the vegetables are tender. Add the steamed eggplant and sauté for a few minutes longer.
Stir in the rest of the ingredients and bring to a boil, then reduce the heat and simmer uncovered for 30 minutes.
This dish can be served hot or cold, as a side dish, or as an appetizer with whole-grain crackers or sliced baguette-style bread.
Contains
Bell Pepper
Celery
Eggplant
Onion
Tomato