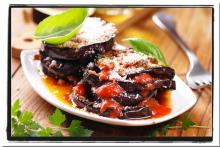 Oh, for the love of eggplant! If you thought you liked eggplant before, wait until you taste this eggplant parmesan! It's heavenly.
Here's what you'll need:
Basic Tomato Sauce:
1 tablespoon olive oil
1/4 cup onion, diced
1 garlic clove, crushed
1 15-ounce can of tomato sauce
1 15-ounce can of diced tomatoes
2 tablespoons tomato paste
1 teaspoon raw sugar
1/2 teaspoon each, dried oregano, dried thyme, dried basil
1/4 teaspoon red pepper flake
dash sea salt to taste
Heat the oil in a medium saucepan over medium heat. Saute the onion until it's translucent, about 3 to 5 minutes.
Next, stir in the garlic and cook for another minute. Then, add the rest of the ingredients, and bring it to a simmer. Lower the heat to medium-low and cook for about 30 minutes, stirring occasionally.
Meanwhile, prepare the eggplant.
1 medium-sized eggplant
2 tablespoons olive oil
sea salt
freshly ground black pepper
2 cups of Basic Tomato Sauce (see recipe above)
1/4 cup vegan parmesan
1 cup vegan mozzarella
1/4 cup panko breadcrumbs
olive oil for drizzling
Preheat the oven to 450°
Slice the eggplant into eight rounds (more or less depending on the size of your eggplant), roughly 1/2 inch thick.
Next, drizzle one tablespoon of olive oil over the eggplant and gently rub it into each piece. Lightly sprinkle with sea salt and freshly ground black pepper. Place the eggplant in a single layer onto a baking sheet lined with parchment paper, and bake for 20 minutes, turning halfway through.
Reduce the oven temperature to 350°
Spoon a quarter cup of sauce into the bottom of an 8-inch baking dish. Begin with the largest, and place four pieces of the eggplant in a single layer. Top each slice with 1/4 cup of sauce, then sprinkle each with parmesan and 1/8 cup of mozzarella. Top with another slightly smaller piece of eggplant, followed by 1/4 cup sauce, a sprinkling of parmesan, and 1/8 cup of mozzarella. Dust the tops evenly with the panko breadcrumbs, if using, a little more cheese if you like, and a drizzle of olive oil.
Bake uncovered in a 350° oven for 20 minutes or until the cheese has melted and the sauce is bubbling.
Remove the baking dish from the oven and garnish it with vegan parmesan and fresh basil.
Serve alone or over pasta with your favorite crusty bread.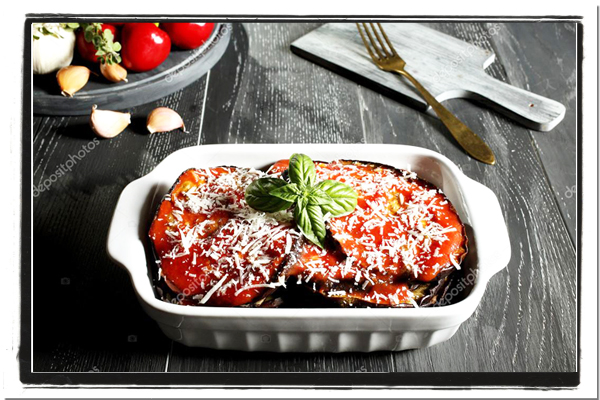 Refrigerate any leftovers.