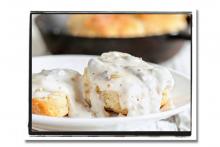 Biscuits and gravy, as a dish, is comfort food at its best! It's one of our favorite things on the planet, and we guarantee you are going to love this recipe! Get the Biscuit recipe here.
1 lb. Gimme Lean Sausage by Lightlife (or other vegan ground sausage)
2 tablespoons olive oil + 1/4 cup more
1 tablespoon garlic powder
1 cup flour
4 cups of water
1-1/2 to 2 cups non-dairy milk
salt and freshly ground black pepper to taste
Heat a large skillet over medium-high heat. Add 2 tablespoons of olive oil, then add the sausage to the skillet and break it up with a spatula. Cook the sausage as instructed on the package until it's nice and brown, then add the garlic powder.
Stir in the remaining 1/4 cup of oil and add the flour. Cook, stirring constantly for 3 to 5 minutes until all the flour is incorporated into the sausage and browns.
Add the water and continue to stir until the gravy comes to a boil.
Reduce the heat to medium, and stir in the milk. Start with 1 1/2 cups and add more if you like a thinner gravy.
Bring the gravy back up to a low simmer, stirring frequently, then reduce the heat to low to keep warm and serve.
Contains
Oil
Sausage (vegan)
Wheat Flour