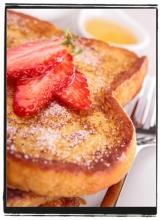 Savory or sweet, French toast is always delicious! And did you know that initially, stale bread was soaked only in milk and then fried in oil to make French toast? The egg came later, or so the story goes.
8 slices of French bread
1/4 cup all-purpose flour
1/8 teaspoon salt
1/8 teaspoon cinnamon
1/8 teaspoon baking powder
1/8 teaspoon allspice
1 cup nondairy milk
1 tablespoon maple syrup
1 tablespoon olive oil
1/2 teaspoon vanilla
4 tablespoons vegan butter (such as Earth Balance)
real maple syrup for drizzling
sifted confectioners' sugar for dusting (optional)
fresh raspberries, strawberries, blueberries, or other (optional)
Sift together the dry ingredients in a medium-size bowl. Combine the wet ingredients, and whisk together with the dry. Set aside.
Melt butter in a large skillet over medium heat. Dip each slice of bread into the milk mixture, then place in the hot skillet.
Cook until each side is golden brown, adding more butter in between batches.
Remove French toast from heat, and transfer to serving plates.
Drizzle with maple syrup and garnish with fresh berries or cut fruit.