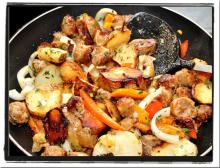 We love a good breakfast-hash, and four things make this recipe one of our absolute favorites; vegan sausage, potatoes, peppers, and pepper jack cheese! Add in all of the other ingredients, and you've got yourself a fantastic breakfast! But, of course, enjoying this dish for lunch or dinner isn't entirely out of the question either!
2 tablespoons olive oil
1/2 white onion, sliced
2 garlic cloves, minced
4 cups diced potato
10 ounces vegan sausage (we like Lightlife)
2 red bell peppers
1/2 teaspoon dried thyme
1/4 teaspoon dried rosemary
1/2 teaspoon sea salt
1/4 teaspoon freshly ground black pepper
1/4 cup water
1/2 cup vegan pepper jack, shredded (optional)
Preheat oven to 400°
Heat the oil in a large skillet. Add the onion and cook over medium heat until the onion looks a bit translucent - about 2 minutes. Add the garlic and cook for another minute.
Toss in the potatoes, sausage, and peppers, and sauté for 5 to 7 minutes. Add the thyme, rosemary, salt, and pepper and continue sautéing for 2 to 3 minutes.
Stir in the water, scraping the bits from the bottom of the pan. Continue sautéeing for another 2 to 3 minutes.
Spoon the mixture into a 9 x 9-inch baking dish—Bake for 25 to 30 minutes, or until the potatoes are fork-tender.
Sprinkle the shredded pepper jack over the potatoes and bake for another 2 - 3 minutes or until the cheese has melted.