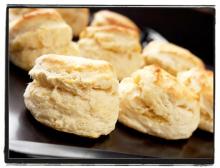 Biscuits are amazing! If you can make great biscuits, and now can, you can make all kinds of delicious meals and side dishes, including biscuits & gravy, biscuits & jam, and morning biscuit sandwiches. The possibilities are endless!
1 to 1-1/4 cup non-dairy milk
3 tablespoons apple cider vinegar
2 cups unbleached all-purpose flour
1 tablespoon baking powder
1 tablespoon baking soda
1 teaspoon cream of tartar
1/2 teaspoon kosher salt
1/4 cup (or 1/2 stick) cold vegan butter, diced
2 tablespoons melted vegan butter and a pinch of sugar
Preheat your oven to 400°
Mix the milk and vinegar in a small bowl and set it aside.
Meanwhile, sift together the flour, baking powder, baking soda, cream of tartar, and salt in a medium bowl. Add the butter and mix with either a pastry cutter or a fork until it is the texture of cornmeal. Make a well in the center and pour in the milk mixture. Stir just until dough forms. Do not over mix. If the dough is slightly dry, add a tablespoon of milk at a time and gently work it in. The dough should be very moist and sticky.
Turn the dough out onto a floured surface and sprinkle the top with a generous dusting of flour. Pat it down into an approximate 7 x 5-inch rectangle that's approximately 1 1/2-inches thick. Using a biscuit cutter, cut out rounds and place them into a lightly oiled baking pan. Brush the top of each biscuit with a thin layer of the melted butter mixture.
Bake for 18 to 22 minutes, or until the insides are firm and the tops are golden. Allow them to cool slightly before handling. Serve warm.
*Note: The dough should be very moist.