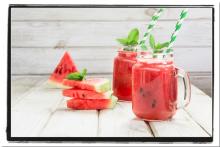 Watermelon Mint Tea is wonderfully refreshing and delicious! It's the perfect beverage to have standing by on a hot summer day!
Here's how you make it:
1 1/2 cups cold water
3 green tea bags
4 cups fresh seedless watermelon juice (about 6 cups of cut watermelon)
Mint Sprigs (as many as you like; we used two large sprigs in the pitcher and more for serving.
Add water and tea bags to a small saucepan over medium-high heat, and bring it to a boil. Remove the pan from the heat and steep the tea bags in hot water for a couple of minutes. Discard the tea bags and set the tea aside to cool.
Note: You can also combine the tea bags and water, cover, and steep in the natural sunlight for 2 to 3 hours if you prefer.
Meanwhile, cut your watermelon into 1 to 2-inch cubes. Add the cubes to a High Powered Blender and blend until the watermelon liquefies. Run the liquid through a Fine-Mesh Strainer to separate the pulp from the juice. Discard the pulp.
Add the mint sprigs, watermelon juice, and tea to a large pitcher and stir. Chill before serving. Serve over ice, with additional mint leaves for garnish if desired.
Cheers!