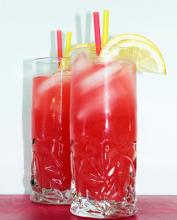 Lemonade is refreshing, so you know raspberry lemonade is going to be both refreshing and delicious. The combined flavor make our pucker happy!
6 ounces fresh raspberries
1/2 cup sugar, divided
4 large lemons (equal to 1 1/4 cup juice)
4 cups water
In a small saucepan over medium-high heat combine the raspberries, 1/4 cup of the sugar, and the juice of one lemon. Stir the mixture until it starts to boil. Reduce heat and simmer gently for 15 to 20 minutes, until the mixture thickens.
Remove from heat and strain, separating the seeds from the sauce. Discard the seeds and allow the sauce to cool.
Meanwhile, squeeze the remaining three lemons; this should yield roughly 1 cup of juice.
Fill a pitcher with 4 cups cold water. Add the remaining 1/4 cup sugar and stir until dissolved. Stir in the lemon juice and raspberry sauce until well combined.
Chill entirely before serving. Serve over ice and garnish with fresh lemon, raspberries, or mint.
Cheers!