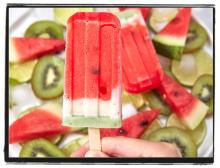 Watermelon Popsicles are so refreshing and delicious and an absolute summertime favorite! They're easy to make and will keep in your freezer for a couple of weeks, although they definitely won't last that long!
Here's what you need:
Homemade Popsicle Molds If you don't already have them.
4 cups cubed seedless watermelon
1 tablespoon fresh lemon juice
1/4 cup sugar, divided
10 ounces dairy-free vanilla yogurt
6 kiwi
1 to 2 tablespoons mini chocolate chips
Add the watermelon, lemon juice, and sugar to a blender and blend until well pureed. Skim the foam from the top and discard. Using a funnel, if you have one, pour the mixture into 10 popsicles molds, filling each about 2/3 full. Add a few mini chocolate chips to each mold, pushing them down and toward the edges, so they're visible.
Next, secure the lid and add the wooden popsicle sticks. Carefully place them in the freezer for 3 to 4 hours until solid.
Stir the yogurt, add to a piping bag (or plastic zip-lock bag), and nip the corner. Pipe the yogurt around the sticks and use a knife or small spoon tip to level the yogurt out if necessary. Return to the freezer for 1 hour.
Meanwhile, cut each kiwi in half and scoop out the flesh into a blender. Add two tablespoons of sugar and blend at high speed until well pureed. Pour through a fine-mesh strainer to remove most of the seeds. Chill the mixture for about 30 minutes.
Remove the popsicles from the freezer and pour the kiwi mixture over the yogurt layer. Chill for 2 to 3 more hours.
To remove the popsicles from the molds, turn them to the side and gently run warm water over them for 1 to 2 minutes. Then, remove the top and gently pull on the sticks to remove.