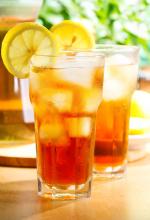 There is a straightforward recipe for making great tasting iced tea that has nothing to do with the word "instant." This refreshing summer beverage couldn't be more simple to make, or delicious.
6 cups cold Water, divided
3 large family size orange-pekoe black tea bags - or 6 small
1/4 cup sugar, agave, or maple syrup to taste (optional)
2 cups ice
Add 4 cups of cold water to a medium pot over medium-high heat. Remove any paper tags from the tea bags, leaving the strings attached. Tie all of them together and drop the tea bags into the water. (This will help when it's time to remove them).
Bring the water to a boil, then reduce the heat to medium-low and let the tea bags simmer in the water for 3 to 5 minutes.
Remove the pot from the heat, and discard the tea bags. Stir in the sugar until it has dissolved. Stir in the ice.
Add the additional 2 cups of cold water, then transfer the tea to a pitcher, and chill in the refrigerator.
To naturally flavor your iced tea, try adding a slice of lemon, orange, mint leaves, peach, or berries to individual servings.
Cheers!