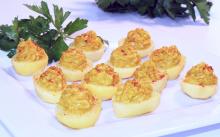 Before going vegan, I loved deviled eggs. However, once I went vegan, I knew that was the end of that! But I've found a fantastic tasting substitute that satisfies my craving in, of all things, potatoes! They aren't eggs, but they look similar, and most importantly, they're delicious!
Here's what you'll need:
15 Tiny Yukon gold potatoes, peeled, halved
1/2 cup Vegenaise
1 tablespoon turmeric *
1 teaspoon yellow mustard
1 teaspoon fresh lemon juice
1 large clove garlic, crushed
1 teaspoon chives, chopped
1/4 teaspoon dried dill
1/8 teaspoon Kala Namak Black Salt
powder (this is an essential ingredient)
freshly ground black pepper
paprika for sprinkling
Soak the potatoes for 30 minutes in a large pot of cold water. Drain, then fill with cold water again. Bring the water and potatoes to a boil over medium-high heat and cook until fork-tender; about 7 to 9 minutes. Then drain and set aside to cool.
Combine four potato halves, Vegenaise, turmeric, mustard, lemon juice, garlic, chives, dill, black salt powder, and pepper in a food processor. Blend until smooth. If you don't have a food processor, no worries, just add everything together in a large bowl and mix until well combined.
Pipe or spoon the mixture on top of each potato half and sprinkle with paprika.
Cover lightly and chill for about an hour before serving.
Refrigerate any leftovers.
*On a side note, the turmeric WILL stain the white plastic center-piece of your food processor - or any other white plastic/rubber utensil you use for that matter. So if you're heart is set on keeping things entirely white - don't use it with turmeric because it will turn yellow.
Contains
Garlic
Potato
Vegenaise (vegan mayonnaise)