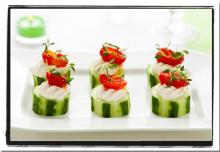 Cucumber and tomato go hand in hand. And the flavor combination is out of this world. This is one A-list appetizer!
3 firm medium-sized cucumbers, cleaned and peeled
12 cherry or grape tomatoes, halved
2 tablespoons olive oil
sea salt and freshly ground black pepper
8-ounces vegan cream cheese softened
2 tablespoon vegan mayo
1 tablespoon fresh lemon juice
1 large garlic clove, finely minced
Fresh thyme or other fresh herbs of choice
Preheat your oven to 225° F.
Place the cherry tomatoes on a baking sheet cut side up. Drizzle with olive oil and season with a pinch of sea salt and freshly ground black pepper—slow roast them in the oven for approximately 20 to 25 minutes. Remove and allow to come to room temperature.
Meanwhile, combine the vegan cheese, mayo, lemon, and garlic in a food processor, pulsing until well combined and creamy. Place the mixture in a pastry bag fitted with a star tip.
Peel the chilled cucumbers, not completely, but alternating lengthwise to create a green and white striped effect. Turn the cucumber horizontally and cut 1-inch round pieces. Place the cucumber slices onto a serving platter and dab the tops with a clean, dry cloth or paper towel.
Pipe approximately 1 tablespoon of cream cheese mixture onto each cucumber slice, then top with one tomato slice and garnish with fresh thyme. (Mix things up by using various fresh herbs such as chive, cilantro, dill, and basil).
This recipe is best to make on the day you plan to serve it. Keep it chilled until your guests arrive.
Yield 24