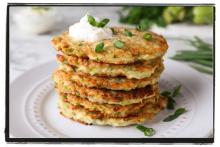 These fritters are super easy to make and a great way to enjoy all that zucchini from the garden!
Here's what you need:
4 cups grated zucchini
1 teaspoon salt
1/2 cup panko bread crumbs
1/3 cup grated vegan parmesan
1/2 teaspoon garlic powder
1/2 teaspoon onion powder
3/4 cup JUST Egg (or half of the container)
1/2 teaspoon of black pepper
2 tablespoons of olive oil for frying
Place the grated zucchini into a colander over the sink. Add the salt and gently toss. Allow it to sit for 10 to 15 minutes. Then, using a cheesecloth or clean dish towel, gently squeeze out the water from the zucchini.
Combine the zucchini, panko bread crumbs, vegan parmesan, garlic powder, onion powder, JUST Egg, and pepper in a large bowl.
Heat the olive oil in a large skillet over medium heat. Scoop tablespoons of the batter into the skillet for each cake, flattening them down as you go. Cook until golden, then flip and cook on the other side until each side is crisp and golden in color; about 1 to 2 minutes more.
Garnish with freshly chopped scallion or cilantro, and serve with vegan sour cream.
Refrigerate any leftovers and enjoy within 3 to 5 days.