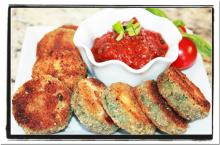 These crispy little Zucchini bites make the perfect "small plate," appetizer, side dish, or main dish for that matter. However you choose to enjoy them, we've no doubt you will!
1 cup non-dairy milk
1 cup flour
1/2 teaspoon salt
1/4 teaspoon freshly ground black pepper
1 cup seasoned breadcrumbs
Two medium zucchini, sliced to 1/2 - 1-inch thick
Vegetable oil for frying
Small jar of your favorite marinara sauce
Using three small to medium-sized bowls, pour the milk into one, the flour, salt, and pepper into the second, and the breadcrumbs into the third.
Slice off the ends of the zucchini, and cut crosswise into 1/2 to 1-inch rounds. Place 5 to 6 pieces into the non-dairy milk, then transfer and coat them with the flour mixture. Next, transfer them back into the liquid for a couple of seconds, then coat them with the breadcrumbs. Next, transfer the zucchini to a platter and continue until all zucchini slices are breaded.
Preheat the pan (preferably cast iron) over medium-high heat, then carefully add just enough oil to cover the bottom of the pan.
Working in batches, place 4 to 5 rounds at a time into the skillet. (Don't over-crowd them) Cook for approximately 3 to 4 minutes on both sides or until they are golden brown and crispy.
Using a slotted spoon, remove the zucchini rounds from the pan and place them on paper towels to drain the excess oil.
Meanwhile, heat the marinara sauce in a saucepan over medium-low heat and serve with the zucchini bites.