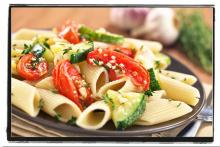 Tossed with baked zucchini and tomato, this pasta dish is seasoned perfectly for a light yet satisfying meal. Serve this with your favorite Italian bread and a garden salad, and you will have dinner the entire family will love.
1 12-ounce package penne pasta
2 large tomatoes, cut in half, and then quartered
3 large cloves of garlic, minced
2 small zucchini, diced into 1/2-inch rounds
2 tablespoons good extra-virgin olive oil, divided
2 to 4 sprigs of fresh thyme, leaves removed
salt and pepper to taste
Preheat the oven to 350°
Cut the tomatoes and place them into a medium-sized bowl. Add the minced garlic and one tablespoon of olive oil. Season with salt and pepper and gently toss. Place the tomatoes, skin side down, onto one-half of the baking sheet.
Dice the zucchini and drop the pieces into the same medium-sized bowl. Add the other tablespoon of olive oil, season with salt and pepper, and toss gently to coat. Place the zucchini in an even layer on the opposite side of the baking sheet.
Bake for 18 to 20 minutes, turning the zucchini halfway through.
Meanwhile, cook the pasta according to the package instructions—strain off all of the water. Place the pasta into a large serving bowl and add the baked zucchini and tomato. Toss gently and adjust seasonings to taste.
Sprinkle with the fresh thyme just before serving.